Did you know that April is spelled Aprilis, which means "to open?" April 8, 2022, started with rain showers, which continued throughout the day. But it didn't hinder the residents of Roxas City and neighboring places from seeing the grand opening of SM City Roxas, the most awaited shopping mall this year.
Indeed, this complete shopping mall is now ready to serve consumers who are eager to try out new products and services not normally found in Roxas City. We know SM Mall for being a one-stop shopping mall that offers a multitude of services that can save you considerable time and effort. And we welcome new things this location will offer.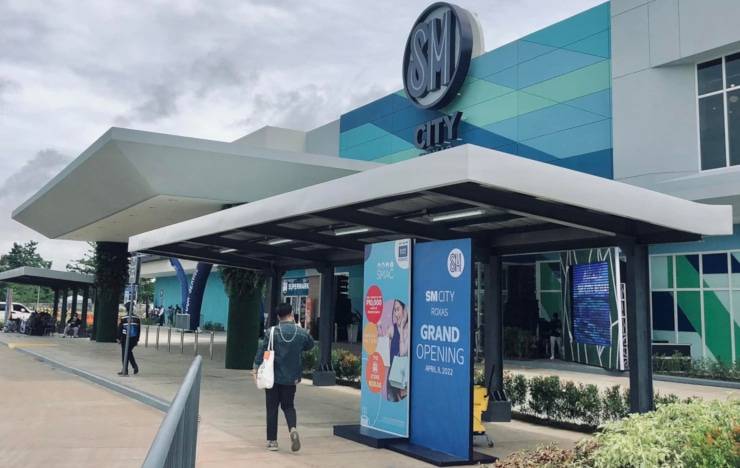 I had a busy day, so I decided to see the mall's first day of operation after dark. While navigating through Arnaldo Blvd. going to the location, I noticed heavy traffic on the opposite side of the road. I was still over a kilometer away from SM Roxas City and saw what looked like vehicles of people already coming home, having finished their first shopping experience at SM.
It took several more minutes before I reached the mall, and I wished the Arnaldo Blvd. road was wider this time. There were vehicles all over the place, but the SM guards were excellent at directing every car to a vacant spot. They were also polite.
The parking area was massive, and it was a challenge looking for a vacant spot amidst hundreds of parked vehicles. But I managed to find an available space to park my car. It was just a few steps away from the main entrance, so I was at the doorstep of the mall in no time. As I entered the building, a very cordial SM staff welcomed me at the door.
And from the entrance, you will see that the first stores to open are in the middle of the building. There were so many people checking out every store on all levels (first and second floors), and the place felt cramped. But as more popular stores will open later, people can explore more areas until the whole SM Mall is available for consumers.
If you are looking for a list of stores during SM Roxas City opening, here are a few stores I can mention:
The SM Store
SM Supermarket
SM Appliance
SM Cinema
SM Foodcourt
KFC
Bread Basket
Prince Baker
Brownies
Macao Imperial Tea
Crocs
Havaianas
ACE Hardware
Iloilo Bike Shop
CLN
Oxgn
Surplus
Midas
Tom's World
Cyberzone
The Face Shop
Sprinto