The cut-off saw (abrasive or chop saw) makes one of the best power tools when cutting a lot of steel. Steelwork usually happens at the beginning of every house construction, where it is crucial for structural support and architectural details later. The most widely used cut-off saw in the Philippines has a 14″ cut-off wheel.
This power tool is much safer than an angle grinder, which requires more power (higher wattage) to cut through a lot of steel more efficiently. I think angle grinders are best for cutting steel in areas where the chop saw cannot reach. With the chop saw, you only need the right cut-off wheel, safety gloves, and goggles, and you can cut steel all day long.
But choosing the right 14″ cut-off wheel is not a walk in the park, mainly if you acquire it online, where you can easily fall into non-genuine products. Well, I learned it the hard way. And that's the reason why I have plenty of cut off discs that stay dormant in my stockroom. They have the wrong alignment and break easily, which can endanger our workers.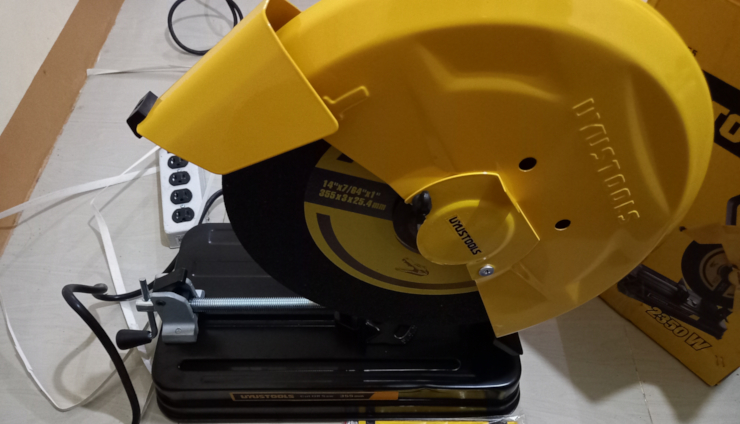 After trying many brands, I eventually figured out which discs were durable and performed the best. I always admire the top brands but don't hesitate to try new brands for a more affordable price. But among the many cut-off wheels I tried, I decided to stick to the ones with the best performances. And it will remain like that for the years to come.
The Best 14″ Cut Off Discs You Can Buy in the Philippines
Here's a list of our all-time favorite 14″ cut off discs:
1. TYROLIT Basic 1 Star Straight Cut-off Wheel
TYROLIT grinding discs are arguably the best cutting discs you can have in the Philippines. And this wheel is only a Basic 1 Star (made in Thailand), which means it has the minimum build quality among TYROLIT discs. This brand still has the Standard 2 Star and its highest-quality product, the Premium 3 Star (made in Australia), where you can find its headquarters.
With only one TYROLIT cut-off wheel, you can cut steel daily for at least a couple of weeks without replacing it. Our workers admire it for its durability and performance. They cannot even count how many steel bars they can cut using this wheel. However, it comes with a price, as it is one of the most expensive discs you can buy (over 600 pesos).
Shop On Lazada
2. Dewalt Chopsaw Wheel for Metal
If you are on a budget but need to cut a lot of steel, this Dewalt chop saw wheel is your best option. It has the best value for money among cut-off wheels. It is very durable and resists wear better than most discs. This Dewalt disc is four times cheaper than the TYROLIT Basic 1 Star but has similar performance and is only behind in durability by a small margin.
If you are familiar with Dewalt quality, you will know that this wheel has no compromise in durability and performance. It is my go-to steel cutter, an authentic Dewalt tool I only buy from a reputable LazMall store in Lazada.
Shop On Lazada
3. Makita Cut-off Disc 14″ for Metal
The Makita cut-off disc is the thinnest disc I have tried. It has a 2.5 mm thickness that can cut steel faster than my Dewalt chop saw wheel, although the Dewalt wheel is less expensive. The material feels softer than the Dewalt and Tyrolit discs but is very durable. The fact is, I already cut a lot of steel bars, and the Makita disc still looks brand new.
Shop On Lazada
4. Bosch Cut-off Disc 14″ for Metal
The Bosch Cut-off Disc feels and performs like the Dewalt chop saw wheel, although it is more expensive than the Dewalt and Makita discs mentioned above. Being a Bosch product, expect top-grade quality from this cut-off disc. Some say the quality of Bosch products has diminished over time and that they are only best for small to medium DIY projects. But this cut-off disc can cut a lot of steel without showing wear. Just watch out for defective discs that may join the good ones when you order.
Shop On Lazada
Final Thoughts
Knowing which cut-off wheels to buy is crucial when using an abrasive saw. Some poorly-made products will fall apart once they touch the surface of the steel. And you will risk cutting yourself even if you have the proper protection.
I have tried lesser-known brands in cut-off discs, like Lotus, Sunrise, Oasis, and Uyustools. They tend to be cheaper than the discs mentioned above but deliver (a bit) less performance and durability. However, I want to see the Lotus brand improve the quality of its discs because it is already making an excellent 14-inch chop saw.