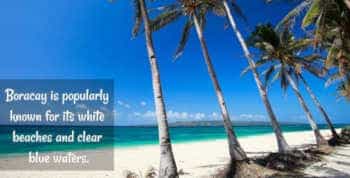 Lot area: 1,000 sq m (w/ clean title)
Price: Php 20,000,000.00
Sold Out. This lot is just a hundred meters away from the shoreline of the famous Boracay White beach. It has a good elevation, which gives a bird's-eye view of the surroundings. This lot is positioned where major progress of Boracay island is being held (Ilig-Iligan Beach).
Lot area: 3,448 sq m
Price: Php 103,440,000.00
Sold Out. This large piece of land owns a good portion of the famous white beach. At the same time, a large portion of it is positioned along the main road. This place is great for business for it blends with major landmarks in the area.
About Boracay Island, Philippines
Boracay island is just 2 kilometers off the northwest tip of Panay island. This famous island has great awards from travel agencies. It is popularly known for its white beaches and clear blue waters. It has 2 tourist beaches – White Beach and Bulabog Beach. Boracay island has the following acknowledgments:
"Top Ten Beaches of the World," as nicknamed by CNN and Conde Nast Traveler Magazine
"Top Ten Beach Destinations," as quoted by Asian Wall Street Journal
"Best Travel and Leisure Destination" award in 2010 through Travel Weekly China Travel and Meetings Industry
Boracay White Beach is the main tourist destination on the whole island. This beach is 4 kilometers long of gorgeous white sand and clear blue waters. It's a great place for both young and old.
The shoreline here has a natural landscape that is slowly sloping towards the sea. It allows kids to enjoy soft and shallow waters.
What makes Boracay white sand different? Unlike other sea sand, the sand in Boracay remains cool even under the heat of the noonday sun.
Water Adventures in Boracay
If you are fond of water sports, this place will be like a paradise to you. Boracay has great facilities a few kilometers away from the mainland.
There, you can enjoy the kayak, jet skis, banana boats, and speedboats. Scuba diving, snorkeling, skimboarding, and parasailing are famous in these waters. Surfers love to go to this area.
Discover Shores in Boracay
Boracay island is great not just on the beachfront but also inland. Most tourists go to the Crystal Cave and Bat Cave.
You will see attractive corals in the nearby islands. And if you want to view Boracay from the top, you can hike to Mount Luho, the island's tallest mountain.
You can also play golf in Fairways & Bluewater Golf Resort. This golf course was carefully designed by Graham V. Marsh, a master golfer. The entire golf course has 18 holes, 72 pars, 6524 yards, and a 71.6-course rating with a 130-course slope.
P.S. We will update this post with new list of lot for sale in Boracay in the future.
Need to ask questions? Don't hesitate to contact us!