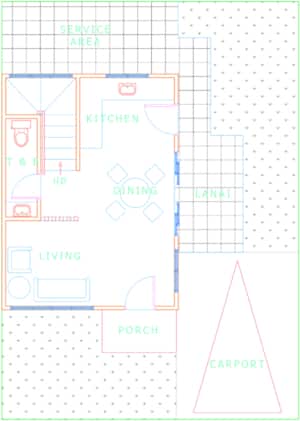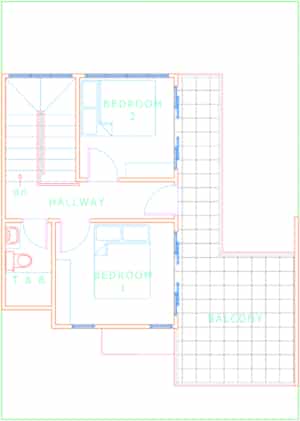 Zaira 1 is a modern two-story house you can build anywhere in Roxas City and nearby locations. It is ideal for an 80 to 95 sq m minimum lot area. This house is suitable for newlyweds and growing families.
Type: Detached
Floor Area: 60 Sq M
Auxiliary Area: 36 Sq M
Lot Size: 80/95 Sq M
Rooms: 2 Bedrooms
Bath: 2 Toilet & Bath
Complete House Features:
2 Bedrooms, Living Area, Dining Area, Concrete Partition Walls, Built-in Cabinets for All Bedrooms, Kitchen w/ Cabinets (and Hanging Cabinets) and Granite Countertop, 2 Toilet & Bath, Porch, Lanai, Service Area, Balcony, & Concrete Pavement for Carport
We have designed the entire ground floor of this Zaira house for the living area, dining area, which connects to the lanai through a sliding door, and kitchen area, which gives access to the lanai and service area. Zaira's lanai is a great place to chat with friends and have a great outdoor breakfast with loved ones. The ground floor area makes this house look spacious because all rooms are upstairs, where you can enjoy well-defined privacy.
Moving up to the second floor and into bedrooms 1 and 2, the rooms offer convenient access to the balcony through sliding doors. The balcony stretches out to cover the carport from rain during the wet season and sunlight during the dry season.
Bedroom 1 is well-placed at the front portion of the house where you'll enjoy an excellent view of your outdoor surroundings, while bedroom 2 is at the back portion of the house overlooking a nice backyard where you can have a little garden or a gazebo and use it as a small secluded and comfortable place that can screen you from the view of the rest of the world. The hallway upstairs also gives easy access to the balcony.
Both the ground floor and second floor of Zaira house have toilet & bath.
Zaira's carport is spacious enough to accommodate one large SUV, crossover, van, or pickup.
Advantages of a Two-storey House
Here are the advantages of a two-storey house:
good division of rooms with well-defined privacy upstairs
less contribution to heat and will need fewer materials for cooling effect
an energy-saving advantage over a one-story house
more open space
you can save precious land for your garden and landscape
the second floor gives an excellent view of your outdoor surroundings
kids love a two-story house because they can go up and down and be more active
stairs could add up to the beauty of your home interior
If you're already a lot owner, we can build this house for you through bank financing, progress billing, or a PAG-IBIG housing loan. For non-lot owners, you can look at suitable locations from our famous subdivisions in Roxas City – San Antonio Resort Village, Puente Acuna Village, and West Lake Villa.
Important:
Deal only with a PRC-licensed Real Estate Broker. This website is not connected with any agent except for Jenny Faith Anota. Please use our official contact numbers and form to call us or send us an email. We do not require payment until we have personally met and discussed it with the buyer.